I thought warranties are to be honored?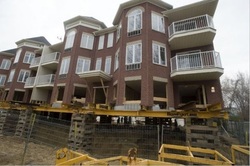 I thought warranties are to be honored?
Silly me.
Thank you for your article.
APCHQ warranties from my experience have been known to be a concern for new home buyers for years. But there was no political will on anyone's part to intervene.
I brought up the lack of APCHQ transparency and good will at the provincially commissioned Condo Commission Inquiries in 2011. Held under the QPL, Quebec Liberal Party and Chaired by the Right Honorable Jean Marc Fournier.
Unfortunately shortly after the PLQ lost an election leaving solid questions that should have been addressed by the new political party to yet again go unanswered. Makes you wonder, or at least it does me!
I started offering APCHQ inspections as a Montreal home inspection services company in 2011. I could never get straight answers from the APCHQ. Always a well-rehearsed narrative with no follow-up.
The lack of oversight makes me wonder how much was and is still swept under the rug as not to rock the boat and embarrass the involved.
Thanks' for your article. It's about time someone has the initiative to dig a little deeper to expose the total lack of oversight...
Quebec real estate purchasing residences deserve what is rightfully theirs when the purchase any warranty, especially for something as big and expensive as your newly built home
Kudo's CJAD.
Read the article
...
Robert Young's Montreal Home Inspection Services Inc.