A Fall From Grace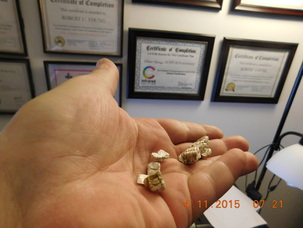 Vermiculite was touted as the miracle mineral for it has great fire-resistant properties and has good insulation properties. In the late 1970s and early 1980s, the Canadian federal government even offered a grant to people who installed products including Zonolite in their homes.

What is vermiculite? It is a volcanic mineral. When vermiculite is heated at high temperatures, it expands into accordion-like pieces that may contain asbestos fibres.

Vermiculite from the Libby Mine in Montana was used in insulation products sold under the brand name Zonolite Attic Insulation in Canada.

W.R. Grace bought the vermiculite mine in Libby Montana in 1963 from the Zonolite Company. There came the fall from Grace.
Tainted Vermiculite Processed for Decades
http://www.washingtonpost.com/wp-srv/WPcap/1999-12/25/005r-122599-idx.html
Asbestos-tainted vermiculite was shipped from a Montana mine to at least 60 processing plants across North America, spreading the deadly material among workers for decades, according to the Seattle Post-Intelligencer.
Federal regulators and company officials were aware of the dangers but ignored them, the newspaper reported Wednesday, citing government and court documents and internal company memos and reports.
Because of the transient nature of the work force, it might never be known how many processing plant workers died from inhaling tremolite asbestos, a rare and extremely toxic form of asbestos released by mining for vermiculite, the paper said.
Vermiculite, a mineral that expands when wet, is used for insulation and gardening.
Mine owner W. R. Grace & Co., and previous owner Zonolite Co., ignored the dangers, the newspaper reported.
The mine was closed in 1990, but health officials say asbestos-related contamination continues to affect people.


Implamenting Trust In Grace.
We are pleased to advise you that W.R. Grace's Plan of Reorganization became final on February 3, 2014. Consequently, W.R. Grace has now funded the Zonolite Attic Insulation Trust from which eligible ZAI claimants will be reimbursed. This webpage contains all the information you need to submit a claim for reimbursement.
Left click on the above Zonolite Attic Insulation Trist image and follow the link.
Follow the ending link to learn more.
http://www.zonoliteatticinsulation.com/faqs/