Buying A Home
Buying a home? You do not want to end up a home with unexpected surprises, "PROBLEMS," do you?

What about purchasing your dream home before prices get out of reach that eventually becomes a financial burden, "LE MONEY PIT," during home ownership?

How about acquiring a real estate property that's a "HEALTH CONCERN" for you and your loving family?

​Buying a home has become increasingly complicated. As the decades advance, the process of buying a home demands greater attention to detail. There's advancements in construction, the way homes are built. Architecture modernizes for energy and appearance. Engineering building materials continues to evolve. Communication technology keep moving forward seeping into almost everything we interact with. We use our phones to turn on lights and condition the home before we even opened the front door to save energy. Systems and appliances become vintage or obsolete after so many years. So how does a home buyer avoid unexpected home buying surprises?
Whether you research buying a house over the internet or while talking to close friends and family member's, over conversations with colleagues or while talking to your bank's professional mortgage consultant, the reoccurring theme, and tone, one avoids unexpected house buying surprises by being prudent and hiring established home inspection company. This is not only highly recommended, it's a prerequisite in most home buying situations, adding home buying peace of mind.
Avoid Rushed Decisions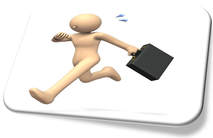 When purchasing a home avoid rushed decisions. R
ushed decisions can be extremely stressful to most individuals. None more so than the first time home buyer, or first time real estate investor. You are boxed into, or so it may appear, a short time line to have the home inspected and make decisions. ...?! This is a well-known among real estate and home inspection professionals, but a well-guarded secret to some nonetheless.
Think realistically. Avoid rushed decisions. When you are tired and rushed, and contemplating large critical decisions, not prepared, calm and composed as you should be, individuals tend to make rushed decisions, that can, and likely do, lead to untimely mistakes benefiting others at your expense.
​We all have busy lives tugging and pulling us in every direction. When purchasing real estate property, Avoid Rushed Decisions! The CMHC says, take Homebuying step by step approach.
Educate and relax...
Read the reams of material professionals make available to you in-person, or over the internet.
Follow planned and measured steps.
Be prudent. Think in advance of your upcoming decisions.
Always hire professionals. Their knowledge and support ease stressful moments. Best advice I can offer!
---