​A New Home or New Condo Inspections?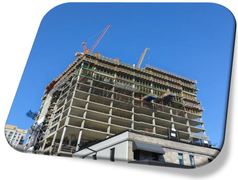 ​A New Home or New Condo Inspections? Do you really need a home inspection when you are buying a new home or condo?
We believe it is prudent to have a new condo inspected.
The status certificate on the general state of the condo building and condominium corporation isn't enough. A thorough condo suite inspection gives condo buyers added legal, financial and emotional security. This cannot be stressed enough as the best level of quality assurance when performed by the right inspector​
You are not required to hire a home inspector. The Builder is allowed to offer you their own "in-house home inspector." This can leave room for double mindedness & employer loyalty. As well, where do they get training​
A checklist is used but over 70% of the condo suite inspections conducted by Montreal Home Inspection Services performs on a yearly bases " none is offered or even used.
By avoiding Quebec's provincially regulated Pre Acceptance Inspection and not obtaining/hiring a knowledgeable home inspector to inspect your financial interest, the condo suite you are purchasing, you may effectively be leaving yourself "Out In The Cold."
You usually/ typically only get one kick at the can. The full weight of warranty is dependent upon the home inspector's experience, equipment, findings. Leave no room for doubt and take an At Arm's Length (
ALP
) approach and
hire an independent condo suite inspector.
Choose your condo inspector prudently. Look for a home inspector that has the right qualifications, experience and expertise. A home inspector who has done many condo inspections. The chances of uncovering hidden defects are much greater.
Book Your New Home Inspection or New Condo Inspection Today
Are you buying a new home or condominium? Read up on provincial APCHQ guarantees.Remember the pre-acceptance inspection! (
Inspection before the acceptance of the building
)
Pre-Acceptance Inspection (PAI) inspection performed by Robert Young's Montreal Home Inspection Services Inc. protect your large investment and family.
New building guarantees are limited in scope and by time frame limiting how warranties are honored.
PRE-ACCEPTANCE INSPECTI
ON CHECKLIST
For buildings not held in co-ownership and
for private portions of buildings held in co-ownership
PRE-ACCEPTANCE INSPECTION CHECKLIST Approved by the Régie du bâtiment du Québec
COMMON PORTIONS
For the common portions of a building held in divided co-ownership
---
(PAI)​ Pre-Acceptance Inspection before the acceptance of the house
Montreal Home Inspection Services recommends, before accepting your new house, you must have that new home inspected by someone with the right qualifications. If the home inspector has prior construction experience, as we do, you will be better serviced. During the inspection your contractor must provide to you a (predetermined checklist) of all the elements to verify condition. Once the pre-acceptance inspection has been completed, you will still have 3 days to complete the checklist and add items to be corrected or completed, on the condition that you have not yet moved into your new home. Make sure to sign this list and to keep a copy of it in a safe place.
Pre-Acceptance Inspection 4 step approach before the acceptance of the house.
Inspect your new home thoroughly. Verify whether or not all of the work "agreed upon in writing with the contractor" has been done, and meticulously note all elements to be completed or corrected (an improperly adjusted door, a scratch in the bathtub or on a kitchen counter-top, etc.)
​
Pay particular attention to any extra work that you and your partner have requested to be completed your contractor.
​
Set a time limit for completion the work and making the corrections with your contractor. Mark this date at the end of the list. Please note that this time limit should not exceed 6 months.
​
Do not hesitate to talk to your contractor. Ask them any questions you may have concerning the work that has been completed. If you are not in agreement with your contractor about the work to be completed or corrected, clearly indicate this on the list.​
---