Our Promise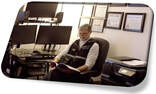 Choosing the right home inspector can be difficult. Downright confusing most times!
During your home inspector journey you will talk to inspectors that have varying qualifications, experience, tools, reporting styles, and lastly, ... pricing for their service. For those (5) reasons alone, and there's more, choosing that right home inspector to trust on your future or current home can be downright difficult, and downright confusing most times.
​From our prospective, as a premier inspector, and established home inspection business based in Montreal, providing value, service and support for the home and building inspection services on and off the islands of Montreal and Laval is the underpinning of what we do. It all boils down to honesty and hard work. Simple when you think of it. A productive home inspection, and conclusion, is totally dependent upon that individual's knowledge, efforts and support. To us, this is why choosing the right inspector for your on or off island Montreal or Laval home inspection or building inspection service is so important for you and your family! We try to earn your trust every day.
Our promise. if you honor me, (CMI) certified master inspector Robert Young, for your home inspection, or building inspection service, I promise you I will work hard on your behalf, and you my very best effort every time!
This I promise you.
Robert Young
​Robert Young's Montreal Home Inspection Services Inc.
---