Our Promise, Hard Work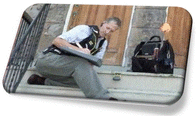 Our promise; the one thing remains constant, hard work and plenty of it!
Realistically/logically speaking, choosing the right home inspector to trust inspecting one of the largest investments for you and your loving family can be difficult, and even down right confusing at times. We totally understand.
As well, unlike most professionals, you probably will not get to meet the inspector until after you hire them when you meet in person at the residence.
Furthermore, home inspectors have varying qualifications, experience, and methods of inspecting.
Lastly, the pricing question??? Although if you think about it realistically/logically, when it comes to pricing, one size does not fit all.

The One thing that remains constant, "a thorough a home inspection assessment requires hard work, and plenty of it!"

A productive assessment and conclusion, the home inspection report, is heavily dependent upon the individual's knowledge, efforts, equipment, and attention to detail.
Furthermore, post inspection consultations provide an overall view of the information gathered.
This is why choosing the right inspector for your on or off island Montreal or Laval home inspection or building inspection service is so important for you, and your family!
---
OUR PROMISE
Our promise. If you honor me, (CMI) certified master inspector Robert Young, and C.E.O. at Montreal Home Inspection Services Inc. for your home inspection or building inspection service, I promise I will work hard on your behalf and give you my very best effort every time!

This I promise you.
Robert Young